Magnify Man is an entertaining crash game by Fugaso launched in 2023. It combines common features of this genre, including dynamic gameplay, multi-betting, and auto cashouts, with a superhero theme. The game provides an impressive jackpot of 10 000 times your wager, and you have the option to participate with a maximum of two bets per round.
In this review, you can find a detailed explanation of the Magnify Man game rules and gameplay features, a list of the leading online casinos where you can play the game, and tips on how to play strategically and win.
---
Best Casinos To Play Magnify Man Game For Real Money
Many players of crash games note that finding a reputable online casino is a challenging task, so our team has reviewed many gambling websites to save you time and provide you with a list of leading online casinos with crash games. Each brand is a legitimate and secure platform to make a real-money deposit and play the Magnify Man by Fugaso, offering the best bonus deals and highest payouts.
---
Game Overview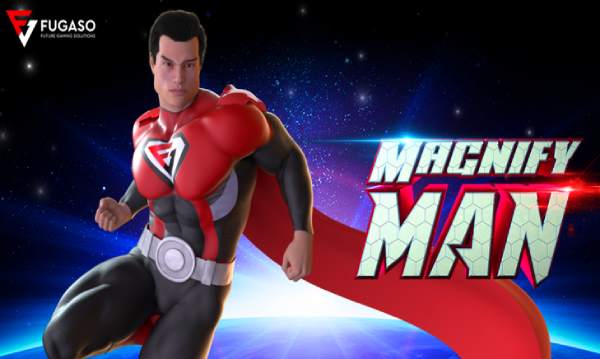 In February 2023, Fugaso, a renowned Cyprus-based developer of online casino games, launched the Magnify Man slot. In this innovative casino game release, your goal is to make a bet and cash out your winnings before the flying superhero disappears.
The game features a superhero theme and boasts impressive design and graphics. Moreover, it offers an engaging soundtrack that keeps players entertained indefinitely. Thanks to the provider's inventive sophistication and utilization of HTML5 technology, this game can be enjoyed seamlessly on various mobile devices, including Android, Windows, and iOS. The gameplay is exceptionally smooth, without any lag, and it supports multiple languages such as English, German and more.
| | |
| --- | --- |
| ⚡ Provider | Fugaso |
| ✔️ Release date | February 2023 |
| 📉 Min. bet | $0.20 |
| 📈 Max. bet | $100 |
| ⬆️ Max. multiplier | 10 000x |
| 🤖 Game type | Crash |
| 💎 Theme | Superheroes |
| 🎁 RTP | 95.39% |
| 💎 Volatility | Adjusted |
| 🔺 Game Size | 9.9 MB |
| 🎰 Demo version | Available |
| 📍 Operating system | Windows, iOS, Android |
Rules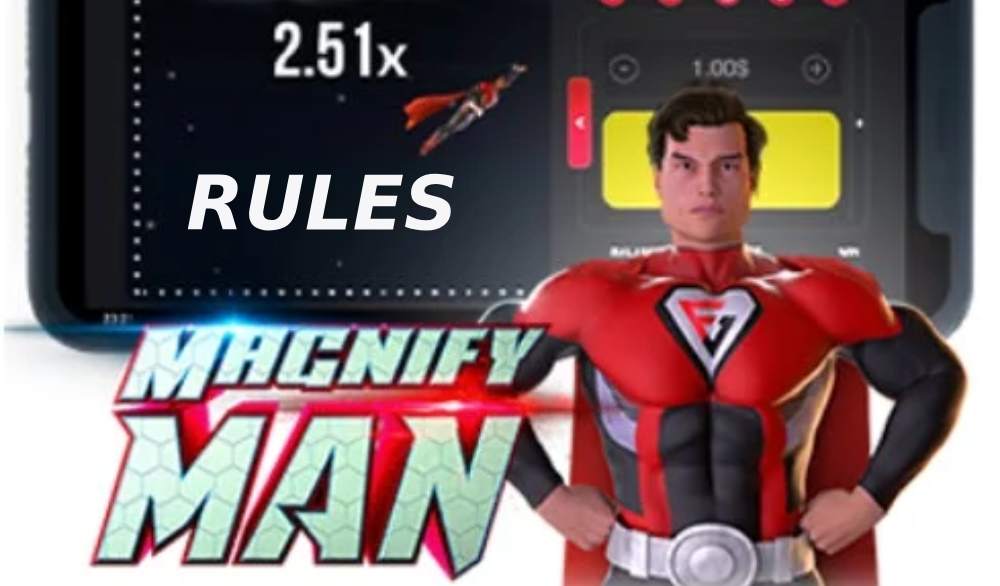 Magnify Man is a straightforward game that offers clear rules and, most importantly, is a verifiably fair game. Once you have placed your bets, the objective is to click "Cashout" before Magnify Man disappears, otherwise, you will lose your bet. The minimum bet amount is $0.20, while the maximum is $100. Interestingly, you have the ability to have two ongoing wagers at the same time during the game.
The maximum amount you can win in the Magnify Man slot is 10 000x your initial bet. For instance, if you placed a $30 wager and were fortunate enough to hit this multiplier, you would win an impressive $300 000. Nevertheless, it is important to remember that this game relies on luck, and reaching the maximum multiplier might prove challenging.
Gameplay
The Magnify Man game does not feature any specific symbols. Instead, it revolves around a single character, the superhero, who flies until a crash occurs. Upon placing a bet, players witness an animated character alongside a multiplier that progressively increases. This multiplier can reach 10 000 times the initial bet.
By clicking the Cash Out button, each gambler has the option to terminate the round before a crash takes place. As previously mentioned, while slots already possess straightforward gameplay, the Magnify Man casino game takes simplicity to an even greater level.It incorporates Auto-Bet and Auto-Cash functionalities for those seeking a faster and more automated experience. Consequently, players can leave the game running in the background while attending to other online activities. Nevertheless, it is crucial to establish a sensible budget to ensure safety and minimize significant losses.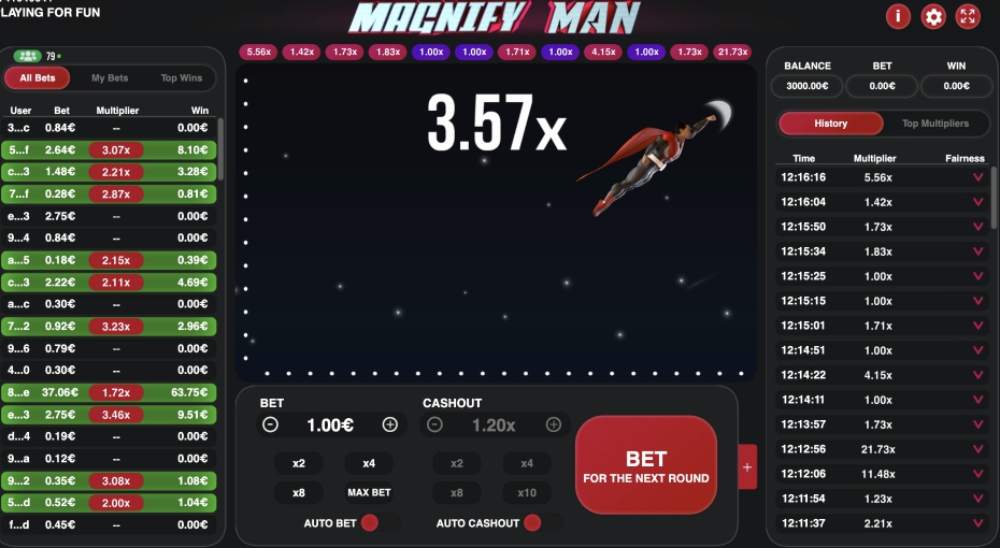 How To Play Magnify Man From Fugaso
The interactive nature of the reviewed game contributes to the overwhelming desire to give it a try. If you are going to play a crash game for the first time, we are sure that the mini-guide on how to play the Magnify Man by Fugaso will be quite useful for you.
Find Your Favorite Casino
Begin by researching the reputable online casinos we list above, considering factors such as licensing, game selection, user reviews, and security measures. Do not forget to check each casino's promotions and bonuses, payment options, and customer support and identify the gambling platform that suits your gambling style the most.
Deposit Into Your Account
Once the gambling operator is selected, it is time to fill in the registration form and set up a new gambling account. Next, top up your account balance using one of the accepted payment solutions, indicating the deposit amount and inputting the accurate payment details. If your chosen casino offers the welcome deposit reward, make sure to claim it.
Place Your Bet
Search for the Magnify Man game in the casino gaming library, load it and enter the game interface. Use the available controls to adjust the size of your bet(s) and click on the "Bet" button. If you are planning on participating in multiple rounds, you may use the Auto Bet feature, indicating the amount of your preferred wager.
Superhero Takes Off
Once you place your bet(s), a single character, the superhero, begins flying. The objective is to monitor the flight carefully and anticipate when the superhero might crash. The multiplier amount associated with the bet increases as the superhero continues to fly, offering the potential to win up to 10 000 times your original wager.
Guess The Right Time To Win
As the superhero ascends and the multiplier increases, the potential winnings become more enticing. However, if you wait too long and the superhero crashes, you lose your entire wager. Therefore, it requires a combination of intuition, risk assessment, and strategic timing to determine when to cash out and secure your earnings before it's too late.
---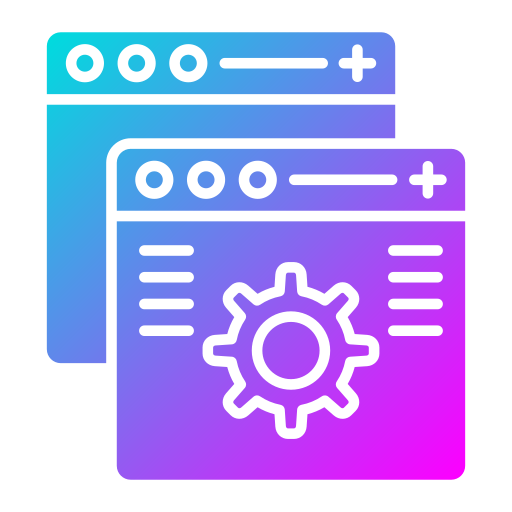 Main Magnify Man Slot Features
Despite lacking special bonuses and mini-games, Magnify Man Fugaso manages to captivate both novice and seasoned gamblers with its set of distinctive gameplay features. Below, we describe these features in more detail.
Statistics
You have the ability to check the statistics of the game and analyze various metrics and trends. For instance, by referring to the left column, you can observe the number of active players. This section provides information about the current bets, your own wagers, and the most significant recent winnings. The inclusion of game statistics adds an extra layer of engagement and transparency to the Magnify Man crash game experience.
History
The history functionality can be advantageous if you are intending to devise betting strategies, despite the fact that crash games are entirely based on luck. Consequently, there are no established methods or formulas that can enhance your winning prospects. To enjoy the game and verify its fairness, you can explore the records of the highest multipliers awarded in recent months.
Autoplay Option
The Auto Bet function in the Magnify Man casino game offers you the convenience of automating your gambling experience. By utilizing this feature, you can set your desired bet size and enable the Auto Bet option. This means that the same bets will be placed automatically on each subsequent round without the need for manual intervention.
Ability To Make 2 Bets Per Round
This feature empowers you to diversify your strategy and potentially increase your chances of winning. By placing two bets instead of one, you spread the risk of losing across different bet sizes or betting options. It also provides an opportunity to adjust your wagers based on the game's progression.
---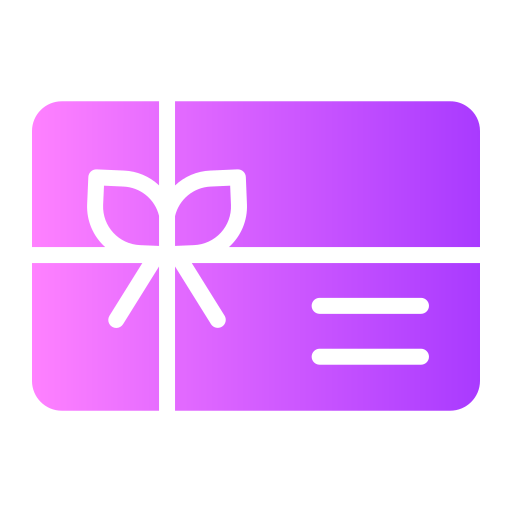 RTP, Payouts & Bonuses
In the context of real money gameplay, RTP holds significant importance. In the case of the Magnify Man game, its RTP stands at 95.39%. This implies that, on average, approximately $95.39 will be returned to you in winnings for every $100 you wager.
The round payouts are determined by the amount of the bet and the multiplier achieved when you decide to withdraw your wager. Overall, the maximum multiplier goes as high as 10 000x.In terms of bonuses, they are not a prominent feature in this particular release, as it does not offer any in-game extra rounds or bonus payouts. However, reputable casinos typically provide welcome packages and reload bonuses to their customers, and some of these bonus funds can be eligible for the Magnify Man online crash game as well.
What Are The Magnify Man Predictions?
Utilizing the game predictor may appear tempting due to its promise of an effortless victory. However, it is crucial to recognize that the Magnify Man predictions do not align with the principles of fair play.
Consequently, it is strongly advised to refrain from engaging in such actions, as they not only contravene gaming regulations in numerous casinos but also possess the potential to result in the closure of one's gaming account.
---
Tips For Playing The Game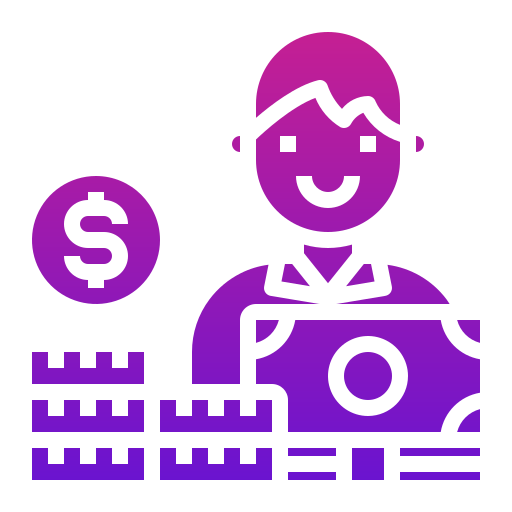 If you're seeking ways to elevate your gaming experience in the Magnify Man casino game, we have you covered. Here we prepared the list of the most useful and effective betting tips:
---
Does Magnify Man Casino Game Have A Demo?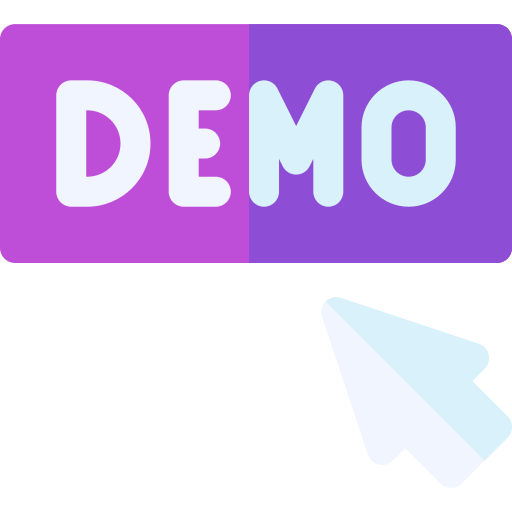 The demo version of the Magnify Man crash game is accessible at all the aforementioned casinos. This version provides a risk-free gambling environment where you can explore and understand the game rules, betting options, and payout structure.
By utilizing the demo version, you have more chances to develop strategies, test different betting patterns, and familiarize yourself with the game's volatility and potential outcomes. Test the gameplay by playing at least 3-4 demo rounds, but keep in mind that there will be no real-money rewards.
---
Advantages & Disadvantages Of This Crash Game
| Pros | Cons |
| --- | --- |
| ✔ High-quality visuals and animations. | ✘ No live chat for players' interaction. |
| ✔ Superhero theme. | ✘ No in-game bonuses. |
| ✔ RTP of 95.39%. | |
| ✔ Adjustable volatility. | |
| ✔ Opportunity to place 2 bets per round. | |
| ✔ Possibility to check the game statistics and history of bets. | |
| ✔ High maximum multiplier of 10 000x. | |
---
Similar Games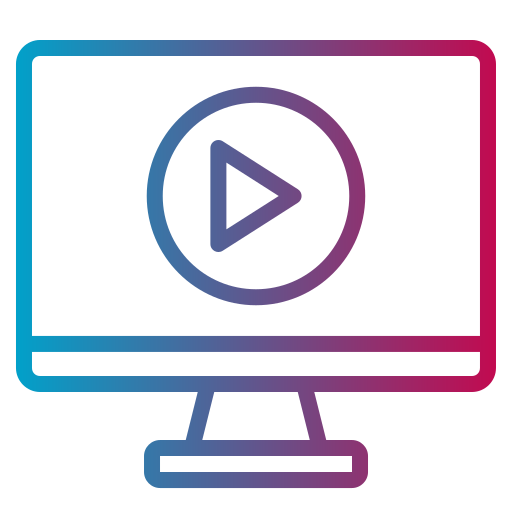 If you enjoy the thrill of the Magnify Man game, there are several other similar games that you might find equally exciting. One such game is High Striker, which offers a similar concept of predicting the crash point and allows you to wager on the outcome.
Rocketon is another captivating option, where you embark on a space-themed adventure and anticipate the rocket's explosion. For those who prefer a cosmic twist, Spaceman presents an exhilarating experience with its unique crash mechanic and space-themed visuals. Additionally, Zeppelin provides an immersive journey where you predict the outcome of a zeppelin's ascent before it crashes. These games offer diverse themes and gameplay variations while maintaining the adrenaline rush and potential for lucrative payouts akin to the Magnify Man casino crash game.
---
Final Thoughts
Magnify Man is an extraordinary crash game, boasting an impressive 95.39% RTP. This game is simple to play and provides breathtaking payouts, reaching an ideal 10 000 times your initial bet. Its seamless design and exhilarating gameplay contribute to an overall captivating experience. Keep in mind that in order to secure a victory, you must click the "Cashout" button before the hero takes flight.
Before immersing yourself in the realm of real-money play, we encourage you to explore the demo version of Magnify Man slot. This will allow you to familiarize yourself with the game rules prior to engaging in actual wagers.
---
Frequently Asked Questions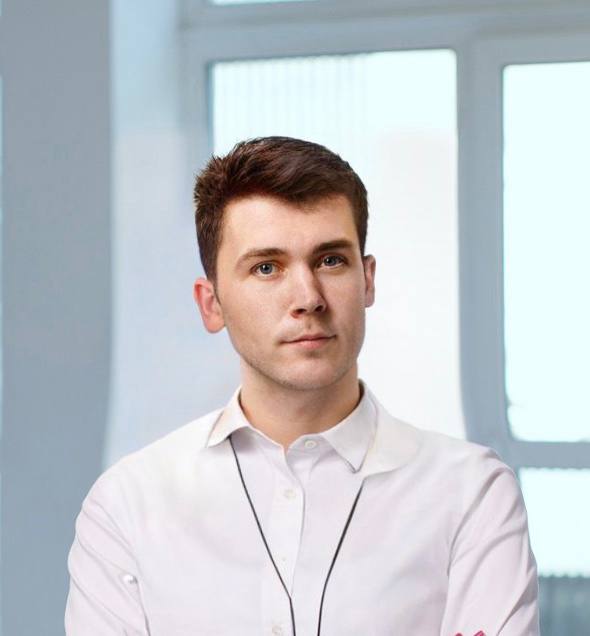 Over the past 7 years, Nick has diligently tracked the progress and transformations in the gambling industry. His distinctive writing style has contributed to the dissemination of important news and updates from the gambling world and clarified important trends in the industry.